Last updated on April 16th, 2019 at 08:38 am
8 Ball Pool MOD APK 4.4.0 (Anti BAN 100%)
8 Ball Pool Unlimited Cash MOD is a Pool game by Miniclip which has been around for years.It follows the simple snooker game mechanics but it does it with perfection.
The game has multiple modes which allow you to enjoy a different type of snooker games on a different type of pools. The game also has 8 player tournaments and each tournament have different difficulty level and rewards. In the tournament, you play directly against other players around the world.
8 Ball Pool also have a wide range of Cue options in the store which you buy with the Pool coins which you can get from winning the games and tournaments or buy them using your real money.
The gameplay is classic billiard style, you will get the realistic billiard experience by sitting on your couch. We also liked the graphics of the game which are top notch and the development team has also done an amazing job with the sound.
This is the first ever Anti-Ban MOD for the game. Many were looking for a mod like this and finally, we can provide you for free. Please read about the mod below under Mod Apk Includes
You can also add friends by connecting the app to your social media and play games with your friends. If you don't want to risk your pool coins, you can play offline by using 25 pool coins. If you are looking for a classic billiard experience on your smartphone then you should try this pool game.
Mod Includes:
High chance of ban (ANTI BAN VERSION READ BELOW)
Game Version: 4.4.0
Required Android Version: 4.0.3 and up
Last Updated: 12th Feb 2019
Credits: NA
Installs: 100,000,000+
How To Install - Download the apk, install it and play
If you have ROOTED and want to MOD the original game and be completely 100% safe follow the tutorial below.
8 Ball Pool ROOT HACK Tutorial
You can watch a video tutorial below if you want to skip written tutorial.
1) Download Game Guardian APK by clicking on it and then install it and give it root permission, and I am assuming you already have the 8 Ball Pool game installed. The original will work and you will be able to log in to Google Play and Facebook.
2) Start game guardian then Launch the game and then start a match, PVP match or any other match. Once it's your turn search for a DWORD value and enters this exact number in it - 1075734118 example pic shown below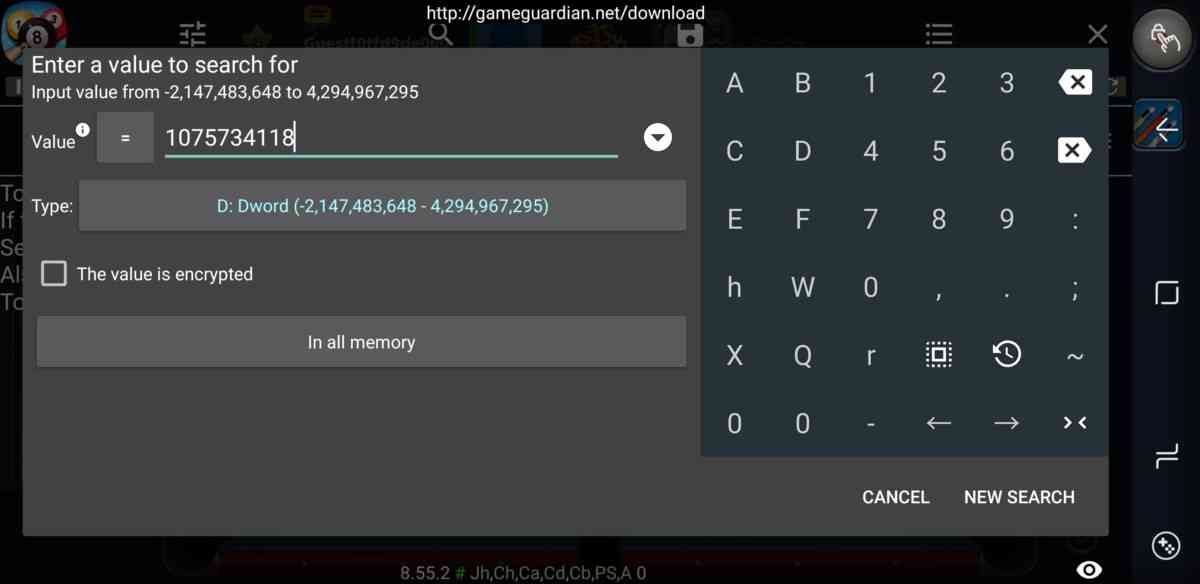 3) Now quickly search for it and you will only have a single result. You have to change that number to 1085734118, you only have to change the 3rd digit from 7 to 8 as shown in the pic below. Also, make sure you freeze the value as shown in the pic below and then also check the "save as"
4) Now click on yes and then close the game guardian or hit back so that you enter the game again, and you will have an unlimited guideline.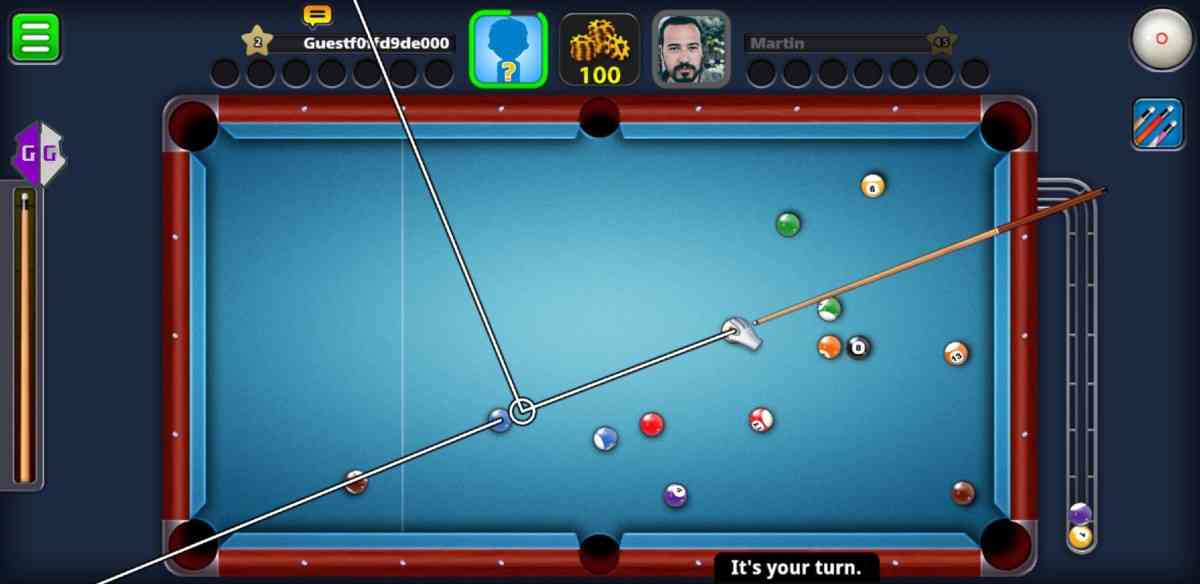 This is an easy method to use in 8 Ball Pool to get Unlimited Guideline, as I said this mode can you be used whenever you want, so chances of a ban are very less. But I am not sure, I have tried playing on this for the past 4 days but I haven't got ban yet. You will be able to log in to google play or your Miniclip account and save your game using this because you will just be playing on the Original 8 Ball Pool game.
If you get stuck anywhere or need help then please let me know in the comments section below. I will bring more game guardian cheats on this blog.