How To Get Free Gems On Clash Royale August 2017
Clash Royale is a game that has to be played just like royals. Once a gamer enters in this world he becomes so addictive that any escape for him becomes impossible.
No wonders why gamers remain in search of free gems on Clash Royale. Winning Clash Royale depends upon resources a player has in his chest.
Popular resources in Clash Royale include gems and gold.
Usually gems and gold are needed for buying cards that command the troops. Apart from commanding the troops, gold is required for building one new clan.
In Clash Royale, getting gold and gems is not such an easy task. In case of gold player needs to donate cards, find some chests or win some arena matches.
Another important resource is gems and elixirs.
Importance of gems in Clash Royale
Before you know how to get free gems in Clash Royale, just have a look at importance of gems. Here is how gems are used in the game.
They are needed for starting a tournament.
They aid in trade of gold.
They assist in process of skipping the opening of chest.
Unfortunately, getting gems is important but difficult. Any gamer has to pay almost $100 to buy 14,000 gems. Not all the players can afford this cost, but they have to look for ways for coming up to their addiction.
Good thing is that a player doesn't need to pay hefty sums for getting those precious gems. There are certain tools and apps that allow you access.
Here are the legit ways, for getting free Clash Royale Gems.
By unlocking the achievements
Getting free gems by unlocking achievements is very basic things. Here is how a gamer can get his free gems.
First of all join a clan. As a member of your clan. Here you would get 100 free gems. The process is easy and it doesn't require any sort of achievement even.
Donate the cards: Well, the basic purpose of gems is to buy the cards and unlock more achievements. But gems can be obtained by donating the cards as well. Here is how it works.
On donating 25 cards you can get 3 Gems.
On donating 250 cards you can get 5 Gems.
On donating 2500 Cards you can get 10 Gems.
On donating 5,000 cards you can get 30 Gem.
On donating 10,000 cards you can get 50 Gem.
On donating 25000 Cards you can get 100 Gems.
Apart from this, there are other challenges as well. These are named as Road to Glory, Gatherer and also TV Royale.
In Road to Glory you need to do three levels including Reach Arena 2, Reach Arena 4 and also the Reach Arena 6.
By unlocking all these achievements, one can get up to 18 gems.
Reward for the Gatherer is also the 18 gems. Here, one has to pick 20 cards, 30 cards and 40 cards as well.
The simplest is TV Royale. Here one can get 5 Gems, by simply watching a match.
Get 500 free gems through tournament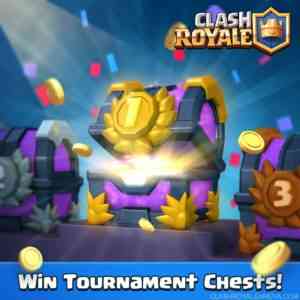 The best way to get 500 free gems is by creating a tournament. Make sure that you don't let anyone to join in this tournament. All you have to do is to create a strong enough password.
In case no one plays in tournament, then it gets cancelled and you get all of refund of all the 500 Gems. In order to get more gems, you can create more tournaments and play more games, while keeping your gems preserved.
Make sure you don't create your tournament for such a long time, that other gamers join it as well. In this way, it would be lost and also the 500 Gems.
Why you need to create tournament?
Getting Gems by unlocking all the achievements are not too much enough. Real fun of Clash Royale lies in more Gems, more cards and more wins. In order to get more Gems, without paying any money, trying out the tournament method remains good.
CONCLUSION
Apart from mentioning all the ways to get free gems in Clash Royale, you can always open chests to get free gems and it's one of the easiest ways to get free gems in Clash Royale.
I hope this post was useful for you. If you have any ideas or suggestion then make sure you leave a comment below, i love discussing on topics related to Clash Royale and Clash of Clans.