Last updated on March 8th, 2019 at 08:15 am
Subway Surfers MOD APK (UNLIMITED COINS/KEYS) 1.100.0
There are hundreds of games available online but only a few of them get the insane popularity and Subway Surfers MOD is one of them. It has been around since 2012 and it is still played by millions of players every day even after more than 6 years. In this review, we will tell you everything you need to know about Subway Surfers.
Overview
Subway Surfers is an endless runner mobile game which was developed Kiloo and published by Kiloo and SYBO Games. Since 2012, the game has been loved by millions of players around the world and in 2017 it was the most downloaded game across the globe.
In March 2018, the game also became the first ever game to cross the one billion downloads on Google Play Store and right after 2 months, in May 2018, subway surfers crossed the two billion download threshold.
Gameplay
The Gameplay of Subway Surfers is very simple yet very precise and its simple gameplay is one of the reasons why it is loved by so many people.
The game will always start where Jake (the main character) will be vandalizing a train and a police officer with his dog will chase the Jake and try to catch him. Jake must dodge the hurdles in his way and also collect the coins in his way. Jake also get the power-ups like hoverboards, springy shoes and rocket pack which help him to get more coins.
If you play a lot of games then you have most probably heard of temple run which is also very famous endless runner game with realistic graphics.
Temple run was designed with the aim to attract the elders as it involved some serious graphics and kind of scary villain but Subway Surfers is designed with the aim to attract the younger segment of the gaming community.
The game has not been only successful in attracting a lot of people from the younger segment but it also attracted the elder segment as well.
DOWNLOAD SUBWAY SURFERS APK MOD
Mod Features
Unlimited Keys
Unlimited Coins
Game Version - 1.100.0
Screenshots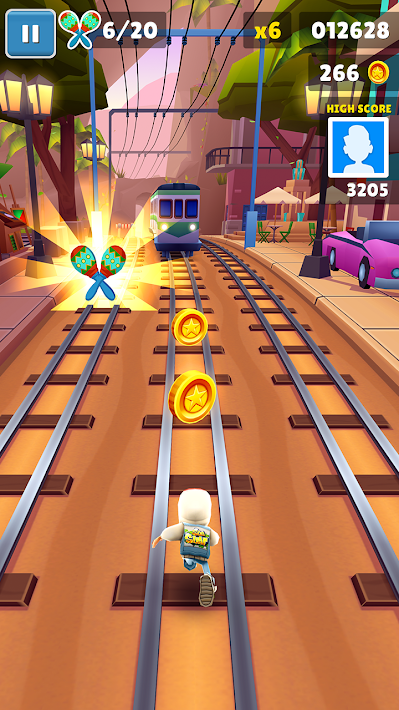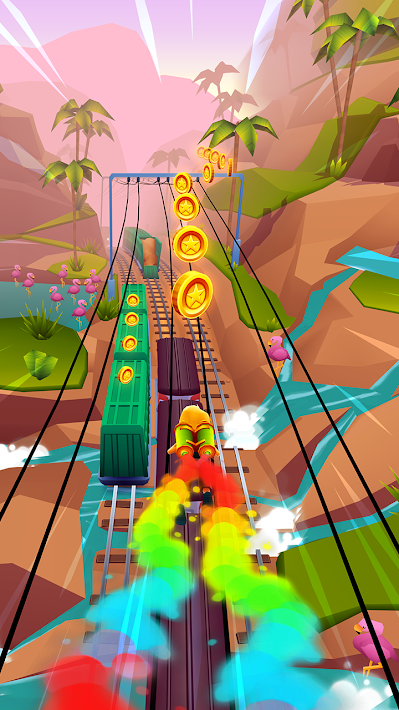 Main Characters
Subway Surfers UNLIMITED COINS have 3 main characters in the game, Following are the details of these characters.
Jake
Jake is the default character of the game which is a hooligan and who love to vandalize things and break the law. Jake also resemble the famous characters like Lilo from Disney series Lilo& Stitch, however, there is no official confirmation so let's keep it this way.
Jake is also very fast and he can run as long as you want so there will be no problem. In the game, Jake has only one goal to no to get caught by the police officer.
Jake is the main character however you can also switch to other primary characters which will cost you some money. You also get the customization option to change the look of Jake by changing his outfits.
Also check out - Crab War MOD APK
Inspector
Inspector is the 2nd main character of the game and it has the only goal to chase the Jake or any other primary character.
Don't go on the look of the inspectors as apparently he is little healthy but he is extremely fast and if you stumble in the game he will be right behind your back to catch you.
By default, you don't have to choose the option but the developers customize the look of the inspector during special events, like on Christmas, inspector gets the look of Santa Claus.
Amoux
Amoux is the name of the inspector's dog and there is no specific breed of this dog. In most of the editions, you will find the dog to be a bull terrier and in New York edition you will find it as a German shepherd. Overall, the main role of Amoux is to accompany the inspector and nothing else.
Boards
Hover Boards are one of the important parts of Subway Surfers' gameplay. They allow the main characters to get relax for a few seconds as if they get hit to the hurdles when they are on hoverboard they don't get caught and get a new chance.
There are more than a dozen hoverboards in the game and each has special characteristics. The developers also include the new time-limited special hover boards which are customized according to the destination you are playing. Following are the default hoverboards in the game.
Name - Price - Special powers
Bouncer - 280k Coins - Super Jump
Daredevil - 856 Coins - Speed Up
Freestyler - 45k Coins - Special Moves
Hot Rod - 280k Coins - Speed Up
Low-rider - 320k Coins - Stay Low
Lumberjack - 4k Coins- Special Moves
Teleporter - 220k Coins - Zap Sideways
Wind glider - 360k Coins - Smooth drift
There are also other boards in the game but we mentioned the popular ones. Developers also regularly update the video game and add new content so if you want to know more about Hoverboard download the game.
Graphics
Subway Surfers is an awesome game with very good graphics. As the game, target the young community so its graphics have the cartoonish look which is very attractive to the targeted audience.
The environment doesn't have an insane attention to details but still, you can differentiate the objects in the environment. Overall, the environment looks perfect and its vibrant colors can also attract your attention very easily.
Conclusion
Subway Surfers is the best endless runner video game available till date and we also loved it. The gameplay is super addictive and its graphics look so pleasant that you can play the game for hours without any strain. Another highlight of the game is its world tour, where every month developers update the game environment to popular destinations around the world and with the update, you also get the customized characters and power-ups.
Overall, Subway Surfers is a good game and if you are looking for the best infinite runner game to play then Subway Surfers is for you.
Have you ever played a game which will not let your head move left or right even for one second? Have you ever played any game with superfast motion effect and endless thrill that takes you to the Virtual World, If the answer is NO, let's start playing Subway Surfer immediately which is available for free at Play Store and Apple Store?
Let us dive deep to find out what makes this game so much thrilling and exciting. Subway Surfers is popularly known to the world as the endless runner phenomenon, so it's all about Run! Run! Run! Can you ever imagine that this game made a record on Google Play store as Unique one billion times download and are the first Game on Google Play store to reach this milestone figure since its launch in 2012. The game is developed by a team of talented developers with collaboration between SYBO Games and KILOO and it became a historic collaboration of the era. To be honest, I was a die heart fan of a similar running game Temple Run and Temple Run 2, however, once I played the Subway Surfers, I was blazed with excitement and thrill, thus fall in love with this Game.
In this game, players take on the role of the graffiti-tagging main protagonist Jake or one of his many friends who need to run fast from the inspector and his dog at a nonstop pace, through the subway systems of famous cities around the world while collecting coins and dodging oncoming trains. The "Subway Surfers" World Tour has visited a well-known destination every month across the globe, so far to six continents. In an animated short movie Jake, the chasing guard and dog appeared. In every update new friendly characters are joined one by one, paying tribute to world cultures and diversity.
The Game is set in a train yard where players can run into oncoming trains, through the subway away from the policeman and his pit bull, but no blood or gore is shown. The protagonist, a young aspiring graffiti artist named Jake, runs, jumps and dodges away from obstacles including roadblocks, trains, bridges, stoplights and pillars, all while collecting coins that enable the user to buy power-ups and various characters. In case of any collisions with obstacles, it will result in you being caught by the guard. While in-app purchases are available, they're not thrust upon players and aren't really necessary, since earning coins is easy in the game. Players on iOS devices have an added feature where they share high scores via the Game Center social network, however, it is optional.
Not only is the gameplay fast-paced and addictive, but there is a lot of additional in-game content that is available to purchase with either the coins you collect while playing the game or buy with real money. Subway Surfers also changes the in-game location every month. Previous locations include Rio de Janeiro, Rome, New York and the current edition in Sydney; this is Cool, isn't it? The graphics are clear and crisp and are a huge improvement from graphics of other endless-running games.
The game's colorful graphics, silly premise, and charming characters made it a breakout success but no one could have anticipated it becoming the biggest mobile game in the world. KILOO and its partner developer SYBO are all set and ready for bigger goals in future, so we are geared up to see more excitement.
So, take a break and play this Game if you haven't played yet, I assure you that you will enjoy playing!