Best Townhall 10 Trophy Base Layouts - Clash Of Clans 2018
Townhall 10 is the top Tier where you will play against the best players of Clash of Clans. At this level, you will defend your base against the players with best armies and a lot of experience.
However, with level 10 you unlock many good defenses which beef up the resistance level of your base. In this Guide, we will share some of the best layouts for Townhall 10.
The First layout is my favorite layout and it is one of the best layout out there. The base design has the anti-funnel layout and it will be very difficult for your opponent to get the 2 stars here.
The base has the perfect placement of air defenses and also ground defense is top notch. There seems to be an easy way to enter the core of the base but it will be impossible for your opponent to get into the base through that strategic gap way as this way is under the range of all-powerful defenses.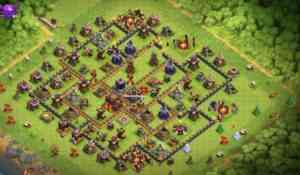 The 2nd base design we are featuring here is another powerful base design. This base design has boxy design implementation which makes it very difficult for your opponents to funnel into the base.
Every building is in the range of the defenses buildings. Even if well-executed attack can't get 3 stars from this base design. The compact design makes this base stronger.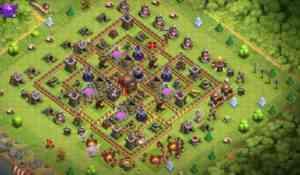 The 3rd Base design is another base design is which is very trending these days. This base design may seem to be ineffective however we tested it and in all tests, we were only able to get 2 stars.
The 2 layers in the core of the base act as a fortress where you secure your valuable resources. This base design is for farming, you can replace the elixir storages with gold storages if you are farming for gold.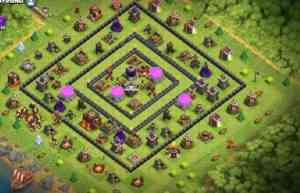 The 4th base design is a hybrid base design which is designed with the aim to protect both trophies as well as storages. The placement of storages is very interesting in this design as you can see all X-bows are protected with storages as we all know storages have high Hitpoints.
Overall the base design is very solid and your opponent will have to come up with a very good strategy to get the 3 stars from this base.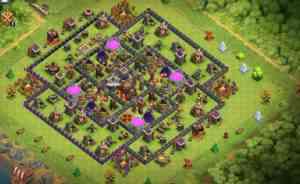 The 5th Base design which we are featuring here is boxy design. The base design gives the impression of a fortress. This base layout is also very good and it performs well against all type of attacks. Your opponent has to have a very strong army to get the 3 stars from this base.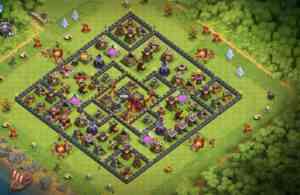 CONCLUSION
We hope that you find this post useful. Make sure to change the layout according to your strategy. We also encourage you to go for your custom design and these designs can give you some idea about how to design your base. Please visit our website for more guides and layouts. Stay tuned for more exciting content, until then clash on!