Clan Wars Full Guide - Clash Royale 2019
Clan Wars is a new feature in a popular game Clash Royale. Clan wars is not a new feature in the Supercell games as other Supercell's games like Clash of Clans also have the Clan wars feature. In this Guide, we will tell you all you need to know about Clan Wars in Clash Royale.
Clan Wars is a 5 days long event in which you will have in which you play against 4 other clans. So it is like a proper event in the game where 5 clans & 250 players compete against each other and at the end of the seasons, all clans get rewards according to their standings in the list.
How can you start the Clan Wars
Clan Wars is a big event so you will need an active clan to compete against other players. There are two requirements to participate in the Clan wars, first is that you should have at least 10 active players to participate in the Clan wars and the 2nd requirement is that your king's tower should be level 8 or more.
Collection Day
Clan Wars are a 2-day event so on the first day you will play against other players to get the maximum cards for your clans. Each player of the clan will have 3 attacks on the collection day and winning each attack will give you some cards which will be added to "Clan Cards" which will be later used to make a deck.
There are multiple attack modes in the game which can be used to win the cards.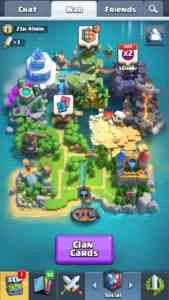 On our Collection Day, we got the following Attack Modes.
In Double Elixir Mode, you get the Elixir at 2x speed so it allows you to use the multiple tanks in your deck however you also need some powerful buildings in your deck to counter opponent's Deck.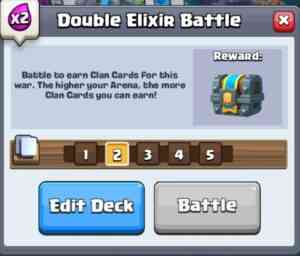 In Draft Battle, you have to select the 4 cards opponent from the pool of 8 cards and your opponent will do the same.
So in this battle mode, the trick is to choose the cards which can give you edge in the battle and don't give away any counter card, for example if you are choosing the bats or skeleton army don't give zap or arrows to your opponent, instead keep the counter and give that card to your opponent.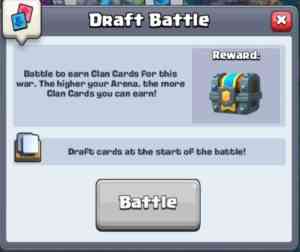 In 2V2 Double Elixir Battle, the mechanics are similar to Double Elixir Battle but in 2V2 you will play with your clanmates against 2 other players. If you don't have strong deck then you should go for 2v2 Battle Modes.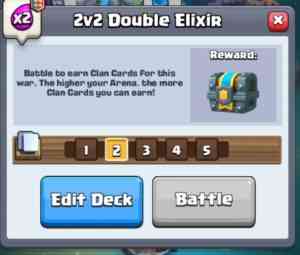 Sudden Death Battle is a great battle and it test your strategy, in this battle whoever will destroy any tower first will win. So the trick is to have the buildings on your deck and have cards which can counter the swarm attack and win conditions attacks.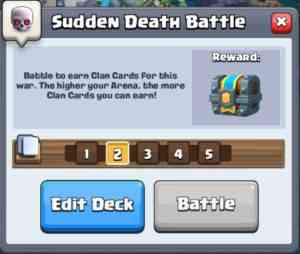 Once you complete the 3 attacks, you will have the option to create your deck from the pool of cards you and your clan mates from the battles.
Ask your clan mates to complete their 3 attacks because it will increase the probability of having more cards, if your clan participation is low, you will have a low number of cards.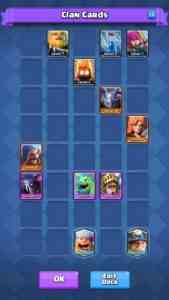 Once you are done with your collection day battles, you should ask your players to practice with their war deck. You can practice with the war deck in the friendly battles and can learn the shortcomings of your deck.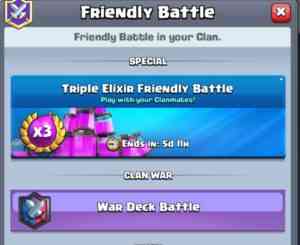 War Day
War Day is the 2nd day of the war and each player can only have on the attack in the war, if you win your attack your clan will get one medal which will add one more point to your clan's score.
Remember, you will be competing against the 4 other clans so your deck should be best. You can learn about the best decks on our website.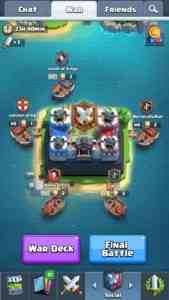 All clans will have 24 hours to complete their attacks on war day and at the end of the day, all clans will be rewarded trophies according to the number of medals they won on the War Day. In this way, the clans will enter into the collection day and they will repeat the whole process again and the end of the season which is 5 days long, each clan will get the rewards.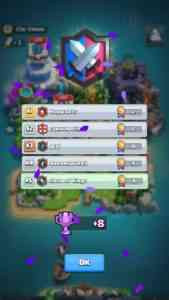 Rewards
At the end of the season, each clan gets the War Chest according to a number of trophies they get. The more trophies your clan get in the war, the higher will be the reward. There are three Bronze league, Bronze I (0-199 trophies), Bronze II (200-399 trophies) and Bronze III (400 & above).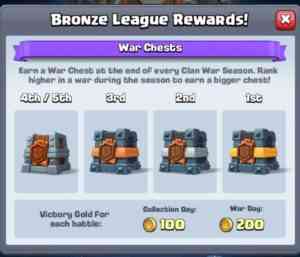 War Chests will have the following Cards
Number 1 clan will get 1890 Gold & 270 Card with a probability of winning 1 legendary Card
Number 2 Clan will get 1470 Gold & 210 Cards.
Number 3 Clan will get 1050 Gold & 150 Cards
Number $ & 5 Clan will get 630 Gold & 90 Cards.
Tips to Win Clan Wars
Following are the tips which we think you can use to win the Clan Wars
Ensure that all players should participate in the clan wars as more number of player will participate then you will have more options to choose from Clan Cards and have an effective
Upgrade your cards, some cards in the Clan Cards are upgradeable so upgrade your cards or choose the cards which are already upgraded.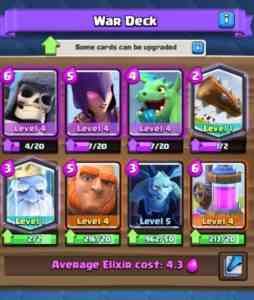 Ask your players to follow the strategies, we have shared a number of effective strategies on our website which can help you win matches.
Keep them motivated, even if your clan doesn't perform well in the first war, you have other wars where you can win more medals and trophies for your clan.
CONCLUSION
Clan Wars is a good effort by Supercell but the rewards for 5 days long effort is not good however we hope that Supercell will increase the rewards very soon. We also think that the players should be allowed to do at least 3 attacks on war day as it will make the clan wars more interesting. Please do let us know what you think about Clan Wars in the comment section below.